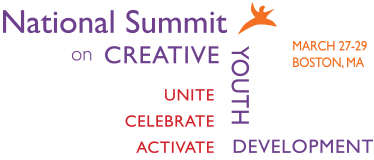 Join us and help shape a concise, action-oriented policy agenda for the field, one that we all can promote at the local, state, and national levels.
The National Summit on Creative Youth Development: Unite. Celebrate. Activate. will be held March 27- 29, 2014 in Boston's Fenway Cultural District.
The Summit will convene approximately 200 thought leaders in the field of out-of-school youth development—based in the arts, humanities, and science learning—from across the nation to celebrate the field's progress and success to date, to document the impact of their work on the lives of young people, and to chart a policy and advocacy agenda for the next decade.
Three sessions will be streamed:
Welcome and Opening Remarks from the Summit: Laying the Foundation
Friday, March 28, 8:30 - 9:45am
 
Summit Caucus Progress Reports
Friday, March 28, 2:00 - 3:30pm 
 
Closing Celebration: Announcing the Agenda and Launching the Campaign
Saturday, March 29, 2:30 - 4:00pm



Join the conversation on twitter: #cydsummit14