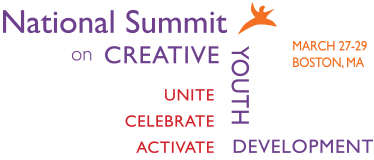 The National Summit on Creative Youth Development: Unite. Celebrate. Activate. was held March 27- 29, 2014 in Boston's Fenway Cultural District.
The Summit convened approximately 200 thought leaders in the field of out-of-school youth development - based in the arts, humanities, and science learning - from across the nation to celebrate the field's progress and success to date, to document the impact of their work on the lives of young people, and to chart a policy and advocacy agenda for the next decade
 
Summit participants - leaders, funders, policymakers, researchers, and youth - drafted "Collective Action for Youth: An Agenda for Progress through Creative Youth Development," a policy and advocacy agenda to be implemented at the local, state, and national levels.
Read more about the progress to-date of this Collective Action for Creative Youth Development