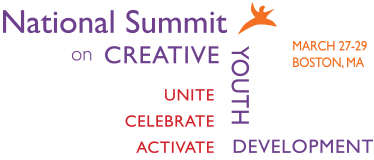 The Summit – Agenda
Thursday, March 27
6:00 – 8:00pm

Registration and Reception



Interactive songmaking, mixing, and remixing with ZUMIX

Tidal pool petting zoo with New England Aquarium

Launching the Summit: Ambassador Swanee Hunt
Chair and President, Hunt Alternatives Fund and Co-chair, ARTWorks for Kids
"Progress through Collective Impact"
Colonnade Hotel
Friday, March 28
8:00 – 8:30am

Registration and Breakfast

Colonnade Hotel
8:30 – 9:45am

Welcome and Opening Remarks



Call to Order: Express Yourself Drummers

Laying the Foundation: What We Know

Defining the Agenda


The five strategic priorities presented by the caucus chairs


Charge to the Caucuses

Performance by Angelina Botticelli, Berklee City Music and ZUMIX
Colonnade Hotel
10:15am – 1:00pm

Working Sessions



Each participant will be assigned to a caucus. Each caucus will meet to map out the imperative and policy agenda for their respective Policy Plank.
1. Collective Impact for Youth (Berklee College of Music)
2. Community Development (Boston Symphony Orchestra)
3. Social Justice and Social Change (Mary Baker Eddy Library)
4. Communicating Impact (New England Conservatory)
5. Funding and Sustainability (Berklee College of Music)

Transportation will be provided to and from the session.
Lunch will be provided at each session.
Meet in front lobby of Colonnade Hotel
1:45pm

Coffee and Light Refreshments

Colonnade Hotel
2:00 – 3:30pm

The Summit Reconvenes



Each caucus presents progress report:
• The imperative
• Call to action (draft)
• Questions, challenges in conversation

Colonnade Hotel
4:30 – 6:30pm

From the Top



Live Recording NPR's Acclaimed Radio Program

Isabella Stewart Gardner Museum
6:30 – 8:30pm

Reception



Featuring Youth Performances:
• Modern dance by OrigiNation
• Afro-Latin music by Hyde Square Task Force
• Scenes by Actors' Shakespeare Project
• Spoken word from Northern Berkshire Community Coalition
• Digital gallery with Computer Clubhouse @ the Museum of Science
• Processions with Medicine Wheel Productions
Isabella Stewart Gardner Museum
Saturday, March 29
7:30 – 8:30am

Registration and Continental Breakfast

Colonnade Hotel
8:30 – 8:45am

Recharge, Refocus: Reconvene.


H. Mark Smith, YouthReach Program Manager, Massachusetts Cultural Council
Colonnade Hotel
8:45 – 10:45am

Final Working Session of Caucuses

Colonnade Hotel
11:30am – 2:00pm
Site Visits

Each participant will select one site visit. Each site visit contrasts multiple programs from around country.
1. Creative Youth Development and Social Enterprise (Artists for Humanity)
2. Collective Impact = Collaborative Fundraising + Collective Advocacy (ZUMIX)
3. Two sides of the Same Coin (Hyde Square Task Force)
4. Young People as Engaged, Activist Citizens (Central Square Theater)

Transportation will be provided to and from the session.
Lunch will be provided at each session.
Meet in front lobby of Colonnade Hotel
2:30 – 4:00pm

Closing Celebration



Announcing the Agenda and Launching the Campaign

Performance by Boston Children's Chorus

John F. Kennedy Presidential Library
4:00pm

Summit Adjourns



Transportation will be provided back to the Colonnade Hotel.