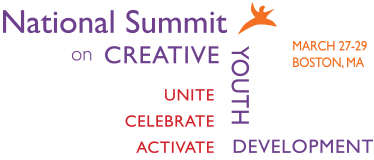 The Partners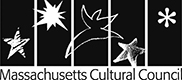 The Massachusetts Cultural Council promotes excellence, access, education and diversity in the arts, humanities and interpretive sciences, in order to improve the quality of life for all Massachusetts residents and contribute to the economic vitality of our communities.
MCC is a state agency committed to building a central place for arts and culture in the everyday lives of communities across the Commonwealth. It pursues this mission through a combination of grants, services and advocacy for cultural organizations, schools, communities and artists. MCC receives an annual appropriation from the state Legislature and funds from the National Endowment for the Arts and other sources.

The National Guild for Community Arts Education supports and advances access to lifelong learning opportunities in the arts. Among its national initiatives is Engaging Adolescents, which aims to increase youth participation in the arts by enhancing the effectiveness and scope of existing, high quality out-of-school time arts education programs and catalyzing the development of new programs. The Guild serves a broad constituency of more than 5,000 nonprofit, arts organizations, and government agencies in the United States that are providing open access to classes, lessons and workshops in multiple artistic disciplines. Many also are providing learning/development through the arts with a focus on youth development, community building, positive aging, and other areas. Of these providers, more than 450 are Guild members. They include community schools of the arts; arts centers; and arts education divisions of performing arts institutions, universities, museums, and other organizations. In concert with this dynamic network, the Guild researches and promotes best practices, provides opportunities for professional development and dialogue, advocates for broad access, and makes grants to the field. Collectively, Guild member institutions offer direct instruction to more than 2.5 million students each year, employ 20,000 teaching artists, and reach an additional eight million Americans each year through performances and exhibitions. In addition to providing classes and lessons within their own facilities, most members also collaborate with public schools, social service organizations, hospitals, and other agencies to increase communities' access to arts education.

Created in 1982 by Executive Order, the President's Committee on the Arts and the Humanities (PCAH) is an advisory committee to the White House on cultural issues. The PCAH works directly with the Administration and the three primary cultural agencies—National Endowment for the Arts (NEA), National Endowment for the Humanities (NEH), and the Institute of Museum and Library Services (IMLS)—as well as other federal partners and the private sector, to address policy questions in the arts and humanities, to initiate and support key programs in those disciplines, and to recognize excellence in the field. Its core areas of focus are arts and humanities education, cultural exchange, and community revitalization. Mrs. Michelle Obama, like other first ladies before her, serves as honorary chairman of the committee, which is composed of both private and public members.
Funders
The National Summit and other YouthReach anniversary events are supported by a consortium of public and private funders, including The Barr Foundation; ARTWorks for Kids, a program of the Hunt Alternatives Fund; the Slater Family Foundation; and the Linde Family Foundation. Presentation of Something to Say: Success Principles for Afterschool Arts Programs From Urban Youth and Other Experts is made possible by funding from The Wallace Foundation.
National Advisory Committee

Russell Baker, NDI New Mexico (Santa Fe & Albuquerque, NM)
Krystal Banfield, Berklee College of Music (Boston, MA)
Kelly Barsdate, National Assembly of State Arts Agencies
Terry Blackhawk, InsideOut Literary Arts Project (Detroit, MI)
Shirley Brice Heath, Stanford University
Cynthia Campoy Brophy, ArtworxLA (Los Angeles, CA)
Wilsonia Cherry, National Endowment for the Humanities
Ken Cole, National Guild for Community Arts Education
Tom DeCaigny, San Francisco Arts Commission
Kristen Engebretsen, Americans for the Arts
Robert Halpern, Erikson Institute (Chicago, IL)
Jonathan Herman, National Guild for Community Arts Education
Jon Hinojosa, SAY Si (San Antonio, TX)
Gwynn Hughes, Charles Stewart Mott Foundation
Melissa Hung, WritersCorps (San Francisco, CA)
Heather Ikemire, National Guild for Community Arts Education
Jean Tokuda Irwin, Utah Division of Arts & Museums
Sandra Jackson-Dumant, Seattle Art Museum
James Kass, Youth Speaks (San Francisco, CA)
Lark Keeler, Museum of Contemporary Art North Miami (FL)
Reed Larson, University of Illinois at Urbana-Champaign
Terence Liu, National Endowment for the Arts
Katie Magrane, Massachusetts Afterschool Partnership
Maura Marx, Institute for Museum and Library Services
Jacqueline Melega, Georgia O'Keeffe Museum (Santa Fe, NM)
Joan Mikula, Mass. Dept. of Mental Health
Francisco Nunez, Young People's Chorus (New York, NY)
Sebastian Ruth, Community Music Works (Providence, RI)
Vanessa Sanchez, Natl. Museum of Mexican Art (Chicago, IL)
Sheila Sears, Colorado Creative Industries
Traci Slater-Rigaud, President's Committee on the Arts and the Humanities
H. Mark Smith, Mass. Cultural Council
Rick Sperling, Mosaic Youth Theatre of Detroit
Ed Spitzberg, Afterschool Alliance
Käthe Swaback, Raw Art Works (Lynn, MA)
Paul Teruel, CCAP, Columbia College (Chicago, IL)
Anne Teschner, The Care Center, (Holyoke, MA)
Kasandra VerBrugghen, Spy Hop Productions (Salt Lake City, UT)
Robyne Walker Murphy, DreamYard Project (Bronx, NY)
 
Local Advisory Committee
Juliana Davis, Berklee City Music alum
Masiel Encarnación, RAW alum
Deb Habib, Seeds of Solidarity
Swanee Hunt, Hunt Alternatives Fund
Kit Jenkins, RAW
Kaamila Mohamed, Theater Offensive alum
Peter Nessen, Nessen Associates
Susan Rodgerson, Artists for Humanity
Abe Rybeck, Theater Offensive
Betsy Sanchez, RAW alum
Barbara Schaffer Bacon, Animating Democracy & MCC Board
Sam Slater, MCC Board (Steering Committee chair)
Jason Talbot, Artists for Humanity
Erin Williams, City of Worcester
San San Wong, Barr Foundation
Lisa Wong, MD, Longwood Symphony Orchestra & MCC Board
Amy Zahlaway, Artists for Humanity alum